IN FRONT OF AND BEHIND THE CAMERA
Audiovisual sector
Writer / Co-director
     During her professional career in the audiovisual sector, Nañia worked as a Writing Assistant for two of the episodes of "Section de Recherches" for TF1 (French Tv), filmed in New Caledonia and directed by Julien Zidi.
Previously, Nañia accomplished six short films as a writer, co-director and animal trainer for A.C.C.A (The Caledonian Association for Animal Causes).
In Spain, she continues perfecting her skills in… who knows what? Maybe for a feature film in the future…
Stunt Coordinator
     Nañia, teacher of ballroom dancing and urban culture, started to box in her spare time and achieved a diploma as a Sports Educator B.E.E.S (in France), and a diploma as a Personal Self-Defense Instructor.
In New Caledonia and also in Tahiti, she participated alongside Thierry Delhief (her instructor) in elaborating the FFBD stages of self-defense and prevention programs (specifically for airlines, casinos, etc…)
Nañia made her skills known to the audiovisual sector and participated in:
Awesome Runaway, by Benjamin De Los Santos
Trauma, by Benjamin De Los Santos
Kanak, l'histoire oubliée

 

by Stéphane Cappes

Louise Michel, feature film by

Solveig Anspach
Animal Trainer
     Nañia studied the life and behavior of animals whilst she was travelling the world.
Whilst living in Gabon at an animal reserve not far from Franceville, 10 hours drive from the capital, she obtained a Diploma as an Assistant Vet specialising in wild animals. In practice these studies are focused on chimpanzees, gorillas and mandrills.
A few years later, whilst in France, she joined a school to achieve a Diploma in Behavioral Dog Education.
With the two Diplomas she decided to specialise in animal training for the audiovisual sector (dogs, horses).
The training had a completely different approach than educating. It was about asking the animal to do something specific which is only useful in its context:
Guide dogs for blind people, sniffer dogs, etc.
Education requires a hierarchy and sometimes a restriction (removal of a positive item or action as punishment).
It is not the same for training. Nañia only works on trust with positive reinforcement to get the animal to fulfill a specific request.
In summary, it is about creating an interactive and playful instruction to achieve the desired result:
for example 'play dead', open a garbage can and throw a paper inside, walk at the requested speed etc.
.
 Interventions:
Foudre
5th Series,  by Stéphane Meunier, for France2
A.C.C.A.
Six short films, Co-Director and Dog Trainer (The Caledonian Association for Animal Causes)
Ravn
by Manuella Ginestre (1st award at the La Foa festival in New Caledonia)
Le piano
by Benjamin De Los Santos
The paradise
Finnish series filmed in Spain
Supporting actress and Model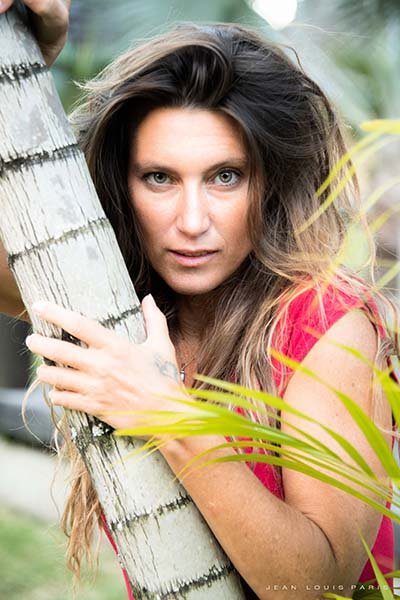 Supporting actress
    Nañia started in the audiovisual sector as writer, animal trainer, choreographer…
She worked as a model for photographers and interprets different parts as a supporting actress.
She is the main presenter in six short films for the A.C.C.A.
The "Mille-ion" arts of Nañia!